Last night critical mass rode as what is likely the largest mass of riders in its world history. The low estimate by police and media is between 5000 and 6000 riders while the reasonable high estimate is as many as 10,000. The Bike National Convention, spearheaded by bike activist group Times-Up!, was a major force behind the swell of riders in last night's tour of the city.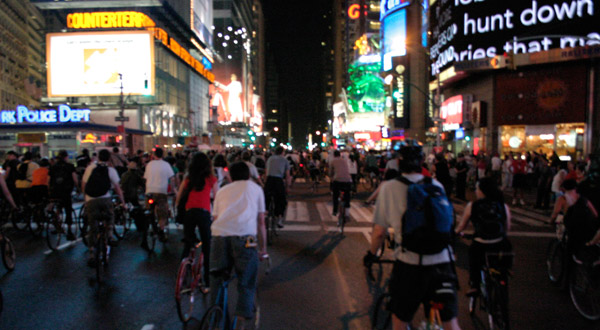 Critical Mass events have been occuring on the last friday of the month in NYC for over 8 years. For the first time, police declared riders were violating the law, creating unsafe traffic conditions and would be arrested if the mass proceeded as usual. A flier of fear was distributed by police to riders meeting in Union Square. In the past, NYPD fear tactics have successfully reduced the size of Times-Up organized bike events. However, last night's deep failure to reduce the size of the ride may have served to frustrate the police force, leading them to unnecessarily arrest over 250 bicyclists.
For over a month, a large after party was being organized for the end of last night's ride. A space was secured as was valet bike parking. The purpose was to end the ride in celebration and provide the space and resources to accomodate an expected large group of riders. However, over the last week police and coast guard were regularly visiting the chosen establishment's owners in an attempt to scare them from hosting the planned celebration. Two days before the ride, their tactics were successful and the owner pulled out.
By successfully removing the critical mass after-party, the New York Police Department effectively created the scenario of thousands of riders pouring through the streets with no final destination. Quickly, Times-Up secured a much smaller space, St Marks church. The venue became less of an afterparty and more of an attempt by the NYPD to cover their failings.
The ride stopped in front of St. Marks but the large mass of people was only able to slowly move inside the grounds. Street watchers filled sidewalks further impeding the the bicyclists street exit. Boxed in, the NYPD swept into the street riot style and arrested anyone present (whether they were trying to leave or not).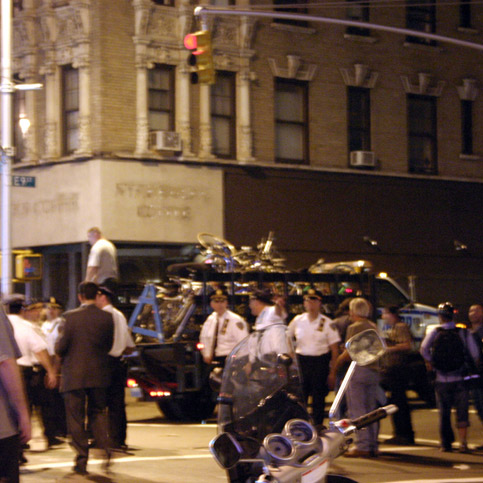 As noted by Times-Up organizers, this loss of after-venue and it's effective result in arrest and chaos is a possible first sign of what will happen with RNC protest marches in the face of non-granted Central Park permits.
Update: 8:30pm Eastern — A reasonable NY Times article.
My friend Brandon will also be keeping a blog during the RNC, check out Learning to Roar.